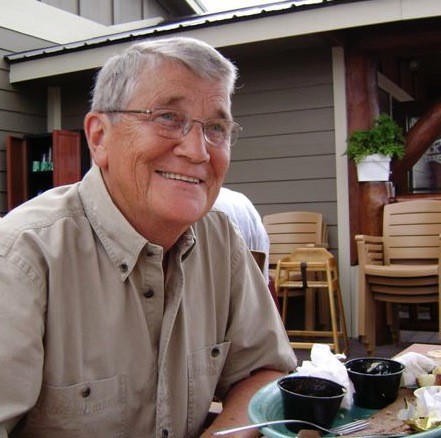 Randy Peters : 1940 - 2016
"There are singers that we love as we sing our lives away…"
Randy Cornelius Peters is a singer who we all love. A gifted musician, a loving husband, an adoring brother, a doting uncle, a best friend, a tireless mentor, a favourite teacher, a humble man and a brilliant mind are qualities that hint at his essence.
Randy was born in Winkler,Manitoba December 26, 1940 to Cornelius and Elizabeth Peters, along with siblings Gloria, Kara, Loretta, Gloria, and Sharron. Whether it was swinging through the trees, climbing the barn roof, or terrorizing the back roads on his trusty Triumph, Randy's formative years in Winkler were far from uneventful. These years honed his sense of humour, developed his respect for life, and formed a personality that was as endearing as it was deep.
Music was a constant in Randy's life. He sang his first solo at the age of three while standing between his dad's knees at the Winkler Christmas Concert, he could play most instruments by ear, he could naturally hear at least seven harmonies, and he knew the words to more songs than it seemed possible to know. A cappella singing in the barbershop style was a lifelong endeavour that featured Randy in many quartets, and as director of the Red Deer Barbershop Chorus, Stampede City Chorus, and Western Hospitality Singers.
Randy is survived by his biggest fan and adoring wife Leslie Cooke, sisters Kara, Loretta, and Sharron, nieces Jody (John), Cindy (George), Lolita and Tracy (Paul), nephews Tyrone, Jeff (Jessica) and Christopher (Masayo), great nephews Jordan, Andrew and Cameron as well as Leslie's siblings, their spouses, nieces and nephews.
Musical, loving, honest, steadfast, creative, kind, brilliant, dependable, hilarious, and inspiring … words seem so inadequate … suffice to say simply that Randy lived life to the fullest every day, with no regrets. His face could light up a room, his laughter could fill a room, and his heart could make you feel as though you were the only person in the room.
Celebration of Life was held Saturday, March 26 at 2:00 in the Highwood Memorial Centre in High River, Alberta.
If desired, donation may be made to Sing Canada Harmony, High River Cancer Foundation, or a charity of your choice.
-