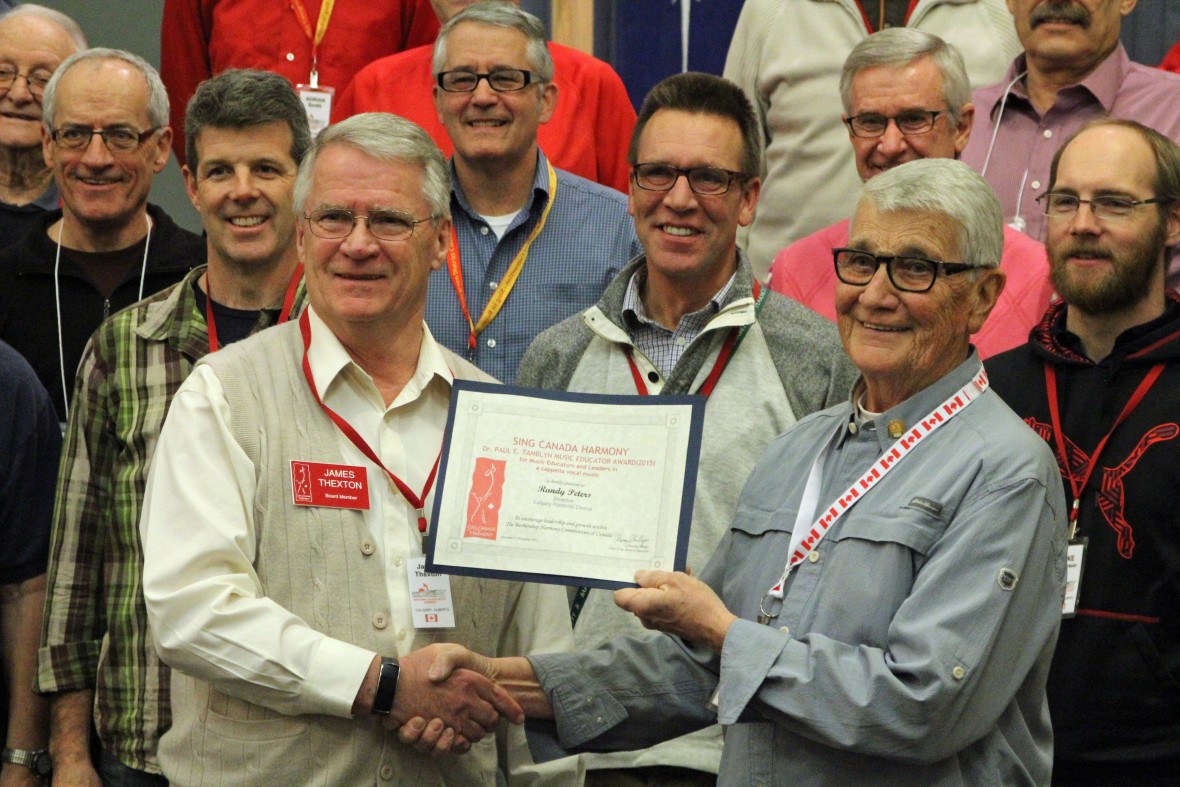 Randy Peters Honoured As Educator
Randy Peters, Chorus Director of Western Hospitality Singers, was honoured and presented with the Dr. Paul E. Tamblyn Music Educator Award for 2015.   
James Thexton, Treasurer of Sing Canada Harmony, presented this prestigious award to Randy on December 7th on behalf of Sing Canada Harmony and all barbershop chapters in Canada.  This recognizes Randy for his long-standing excellence in advancing and encouraging music educators in Barbershop  Harmony and a cappella singing,
Randy Peters has been singing and playing instruments all his life.  He sang tenor in a barbershop quartet at age 16, before he even knew there was a Barbershop Harmony Society. . He was a front line director from 1963 -71 in Red Deer and Calgary, starting at the age of 23.  In 1976, he became Director of Calgary's Stampede City Chorus. They won the Evergreen District Championship in 1984 and competed at International in Minneapolis in 1985. He then became the Director of Western Hospitality Singers, a new chorus, in 1986, which has continued to this day.  He has directed, coached and taught choruses and singers for over 45 years. Randy has created over 150 arrangements and many new songs, which gives his chorus a unique repertoire.  Randy was inducted into the Evergreen District Hall of Fame in 2013.
Congratulations and thank you, Randy.
More of John Simpson's pictures of the event can be found here: 2015 Tamblyn Award to Randy Peters.